JK Cattle Company offers quality Angus and Brangus bulls for sale
JK Cattle Company offers quality Angus and Brangus bulls for sale
Angus and Brangus bulls for sale in Queensland
Angus and Brangus bulls for sale Queensland
Inaugural JK Cattle Company Bull Sale
2022 BULL SALE: TUESDAY 9th AUGUST
ON-PROPERTY "CAMILAROI WEST" CONDAMINE & ONLINE
OFFERING 56 ANGUS & BRANGUS BULLS
JK Cattle Company is owned and operated by Justin & Kate Boshammer, near Condamine and Dulacca in Queensland's Western Downs.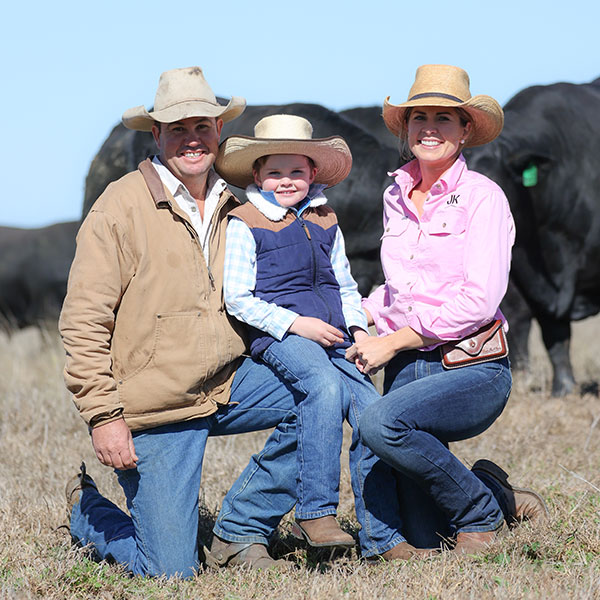 We are a rural beef business, focusing on producing quality Angus and Brangus seedstock bulls, as well as commercial breeding and backgrounding production.
We have been breeding Angus and Brangus bulls and developing our seedstock herd for over 15 years. During this time we have strived for consistency and depth of quality in our bulls, with a focus on fertility, performance, adaptability and customer satisfaction.
We breed with a balanced approach across all traits, and commercial relevance is at the heart of our program. You can read more about our breeding philosophy and program here.
In 2022, 56 Angus & Brangus bulls will be offered at our first on-property bull sale at Condamine on Tuesday 9th August.
Yearling bulls are also sold privately from September each year. We welcome enquiries and inspections of our herd, and value building long-term relationships with our clients.
We began leasing our first property in 2012, and over the years we bought more cattle, agisted, leased and purchased more land. Today our seedstock and commercial herds are comprised of 650 breeders plus progeny, on 3500 hectares. We are also engaged in a contract operations role of 800-900 commercial breeders.
For more information on what we do, we hope you enjoy our video.
Please feel free to contact us with any questions you may have, we are more than happy to help.
Justin & Kate Boshammer
2022 BULL SALE PREVIEW VIDEO
Tuesday 9th August 2022, 1pm
Offering 56 Angus & Brangus Bulls
Catalogue & Photos Now Online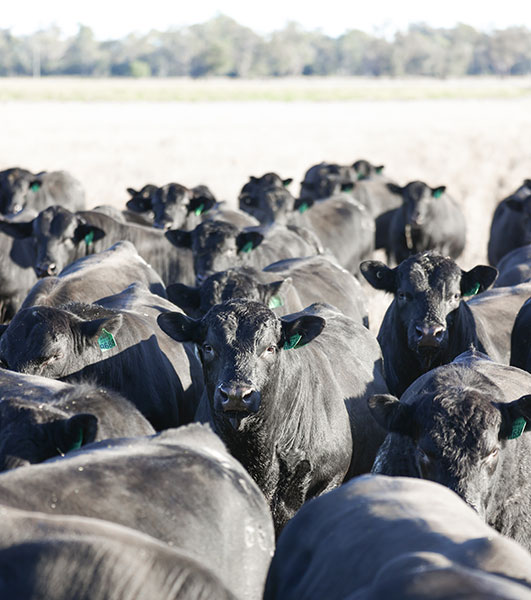 We invite you to join us for our very first on-property JK Cattle Company bull sale on Tuesday 9th August at "Camilaroi West", Condamine. It is with excitement and gratitude we reach this milestone, and we are looking forward to offering 56 Angus and Brangus bulls on sale day.
For the past 17 years, we have been involved in the Sandon Glenoch Angus bull sale, as vendors and through contributing to the organisation of the sale, and we are very thankful for this opportunity.
As our numbers have grown, we have made the decision to now hold our own sale. This will allow our bulls to remain in their own environment, and will simplify the management of the sale and delivery of the bulls.
Our sale will be held the day prior to the SGA bull sale, allowing clients the opportunity to attend both sales, with many accommodation options available in Condamine, Miles and Chinchilla.
We have recently been building yards and a sale complex at "Camilaroi West", which is just a few kilometres north of Condamine. We've designed yards that will suit our needs all year round, and work well for sale day, with large inspection pens.
We are very much looking forward to welcoming everyone to our first sale this year, and are so grateful to you all for sharing in the journey with us.
All of our bulls are motility and morphology semen tested, DNA sire verified, blooded for tick fever, tested free of pesti virus and are vaccinated for 3 day, vibrio and 7 in 1. They're registered and Breedplan performance recorded, and dam data is provided on all bulls.
To request a catalogue, please send us a message via our contact form.
Yearling Bulls
We will also have Angus and Brangus yearling bulls available for private sale from September/October 2022. Please contact us if you're interested in adding your name to the list.
An insight into our operation
Subscribe to our newsletter