JK Cattle Company offers quality Angus and Brangus bulls for sale
JK Cattle Company offers quality Angus and Brangus bulls for sale
Angus and Brangus bulls for sale in Queensland
Angus and Brangus bulls for sale Queensland

48 ANGUS, BRANGUS & WAGYU BULLS
TUESDAY 26th & THURSDAY 28th SEPTEMBER
JK Cattle Company is owned and operated by Justin & Kate Boshammer, near Condamine and Dulacca in Queensland's Western Downs.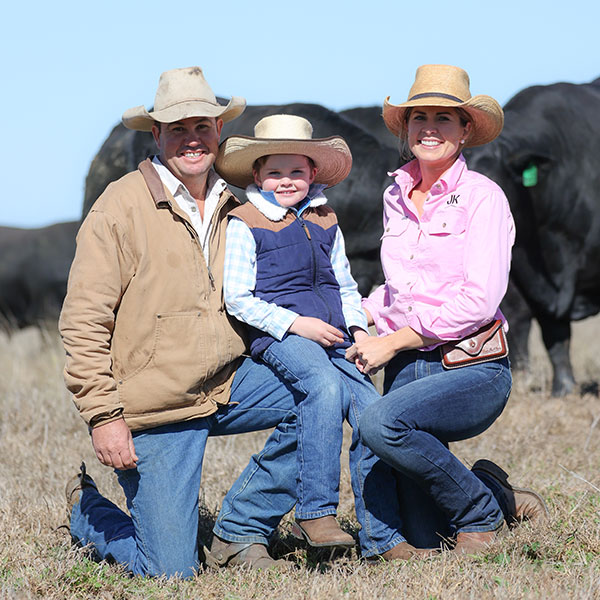 We are a rural beef business, focusing on producing quality Angus, Brangus, Ultrablack and Wagyu seedstock bulls, as well as commercial breeding and backgrounding production.
We have been breeding Angus and Brangus bulls and developing our seedstock herd for over 15 years. During this time we have strived for consistency and depth of quality in our bulls, with a focus on fertility, performance, adaptability and customer satisfaction.
We breed with a balanced approach across all traits, and commercial relevance is at the heart of our program. You can read more about our breeding philosophy and program here.
In 2023, we will hold our second on-property Angus and Brangus bull sale at Condamine on Monday 7th August.
Yearling bulls are also sold in September each year in an online helmsman auction.
We welcome enquiries and inspections of our herd, and value building long-term relationships with our clients.
We began leasing our first property in 2012, and over the years we bought more cattle, agisted, leased and purchased more land. Today our seedstock and commercial herds are comprised of 650 breeders plus progeny, on 3500 hectares.
For more information on what we do, we hope you enjoy our video.
Please feel free to contact us with any questions you may have, we are more than happy to help.
Justin & Kate Boshammer
An insight into our operation
Subscribe to our newsletter