JK Cattle Company is owned and operated by Justin & Kate Boshammer, near Condamine and Dulacca in Queensland's Western Downs.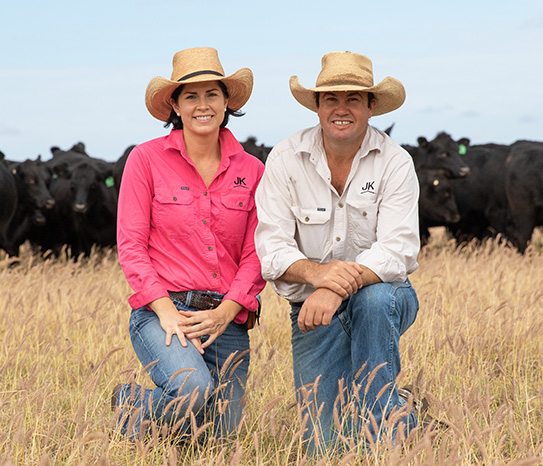 We are a rural beef business, focusing on producing quality Angus & Brangus seedstock bulls, as well as commercial breeding and backgrounding production.
Our bulls are available for sale privately as yearlings, and as two-year-olds at auction in August each year. You can read more about our breeding philosophy and program here.
We've been breeding stud cattle for more than 15 years, and our journey as JK Cattle Company started in 2012, when we began leasing our first property.
Over the years we bought more cattle, agisted, leased and purchased more land, and in 2019 we own around 900-1000 head on 3500 hectares. For more information on what we do, we hope you enjoy our video.
Please feel free to contact us with any questions you may have, we are more than happy to help.
Justin & Kate Boshammer
Wednesday 12th August 2020
JK Cattle Company will be offering a select group of 30 Angus and Brangus bulls at the 29th Sandon Glenoch Angus Bull Sale, held on-property at "Glenoch", Chinchilla.
All of our bulls are motility and morphology semen tested, DNA sire verified, blooded for tick fever, tested free of pesti virus and are vaccinated for 3 day, vibrio and 7 in 1. They're registered and Breedplan performance recorded.
To request a catalogue, please send us a message via our contact form.
An insight into our operation
Subscribe to our newsletter
Subscribe to get the latest updates.