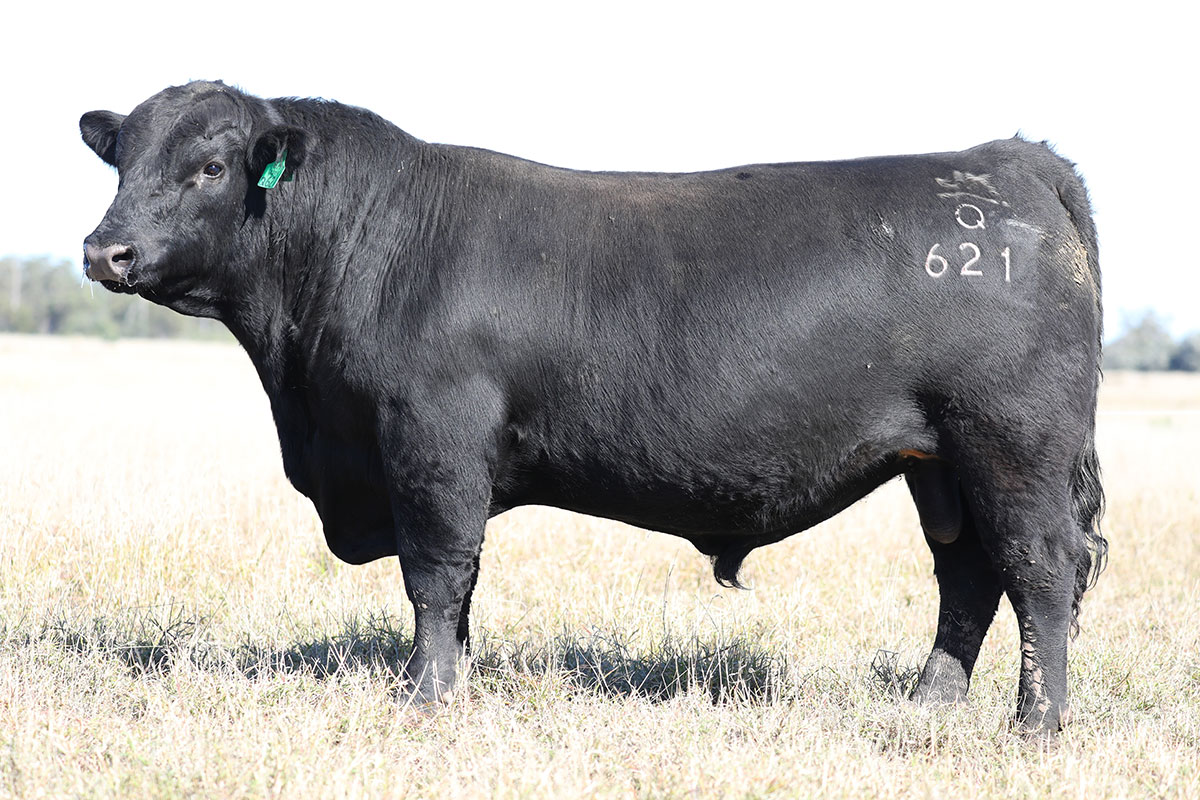 This bull's greatest strength is that there are no compromises.
There are no compromises for phenotype, EBVs, structural correctness, docility or pedigree.
Qudos Q621 has all of the characteristics to consistently breed industry-relevant sons, and very functional, maternal daughters. This is further backed up by fast growth EBVs, moderate mature cow weight and milk, and trait-leading EBVs for fertility. He is balanced across all carcase trait EBVs, and is in the top 1% and 2% for structure!
He weighed 37kg at birth, so there is scope for his calving ease EBVs to further improve with progeny data. His maternal line is everything that we strive for – proven fertile and productive cows stacked at every generation. Check out the maternal line information and table below.
We feel there are many specialist sires who are breed-leading for particular traits and have contributed to overall genetic gain, but economically the wastage from having to compromise on phenotype and other traits is quite real. For our own herd, we will use some specialist sires in A.I. programs, but for our herd sires we select bulls with minimal compromises to guarantee depth of quality in our next line of calves.
Qudos is a genuinely quiet, neatly made bull, who is correct and very sound in his feet and legs (structure scores and photos below). He is smooth and well laid-in through his front end, and combines this with awesome muscle expression, and thickness and softness throughout.
Q621 is a go-to for consistently breeding great cattle, and excelling at the most important traits for on-farm profitability!
Q621 sells with full possession and marketing rights. We retain the right to collect semen for our own use.
JK CATTLE CO QUDOS
Q621
 SV
ID: QLLQ621
DOB: 06/08/2019
(22 months at time of photos and video)
REG: HBR | SIRE VERIFIED
AMFU, CAFU, DDFU, NHFU
SEMEN TEST RESULTS:
90% Motility, 91% Morphology
SELLS AS LOT 10
in the Sandon Glenoch Angus Bull Sale
Wednesday 11th August 2021, 1.00pm
On-Property - Chinchilla, QLD
Online - Elite Livestock Auctions
Structural EBVs - July 2021 TACE
| | |
| --- | --- |
| +0.46 | +0.46 |
| TOP 1% | TOP 2% |
Structural Assessment Results
| | |
| --- | --- |
| Front Feet Claw Set | 6 |
| Hind Feet Claw Set | 5 |
| Front Feet Angle | 6 |
| Rear Feet Angle | 6 |
| Rear Legs (Side View) | 6 |
| Rear Legs (Hind View) | 6 |
| Temperament | 1 |
| Sheath/Navel | 5 |
Assessed by Roger Evans, 01/07/2021
Every cow going back to D18 (born in 1984) has calved every year and all have had quite a number of natural calves each. The cow behind D18 was U3, who had 11 calves. Given she was one of the early cows in the Glenoch herd (born 1975) we will forgive her for missing a calf in 1979 and 1985.
It is a rarity to consistently see every cow having many natural calves in a bull's pedigree, and it's the stacking of proven fertile cows that is what we strive for. One cow in particular was D18, as some of her daughters were some of the best females in the Glenoch herd at that time. Daughters, L38 (63 progeny) and H26 (34 progeny), later became foundation donor cows for Dunoon Angus.
Throughout SGA bull sales in the early 2000s, the Booroomooka Theo x Stockman 365 was a repetitive and successful mating, and V12 just had the one Theo daughter, and three Theo sons. Years later A241 crossed well over the Theo x 365 daughters.
All in all, the pedigree background of Q621 is first class for proven fertile and productive cow lines, and it's this proven longevity that gives us confidence that Q621 will breed on.
Q621's Dam Calving Data - Six Generations
| | | |
| --- | --- | --- |
| QBGJ204 | 6 | 365 |
| QBGZ71 | 10 | 366 |
| QBGV12 | 9 | 375 |
| QBGN10+93 | 12 | 367 |
| QBGD18+84 | 10 | 362 |
| QBGU3+75 | 11 | |
Subscribe to our newsletter